Berthoud and Loveland Parents As Teachers RECEIVES NATIONAL RECOGNITION AS A BLUE RIBBON AFFILIATE
House of Neighborly Service's program, Berthoud and Loveland Parents As Teachers has earned a prestigious endorsement from Parents as Teachers National Center, Inc., (PATNC) as a Blue Ribbon Affiliate, making it one of the top-performing home visiting affiliates within Parents as Teachers' international network. The official designation was made in October 2023.
Being named a Blue Ribbon Affiliate affirms that Berthoud and Loveland Parents As Teachers is a high-quality member of the home visiting field, implementing the evidence-based Parents as Teachers model with fidelity. Families in the communities of Berthoud and Loveland are positively impacted by the services delivered by this program.
The program includes home visits, group connections, child screening, and connections to community resources. It equips parents with knowledge and resources to prepare their children for a stronger start in life and greater success in school.
"I'm incredibly proud of our PAT team! The Blue Ribbon Endorsement is a prestigious honor that is a testament to their exceptional leadership and the positive impact they have made in the lives of local families." Cherri Houle, Executive Director
"Being recognized as a Blue Ribbon Affiliate of Parents as Teachers is a good acknowledgement that the work we are doing in Loveland and Berthoud is making a positive difference to our community." Michelle White, PAT Manager
Implementation with quality and fidelity is vital in home-visiting programs as it determines a program's effectiveness in accomplishing its original goals and intended outcomes. It also verifies that a program is being implemented as designed. Parents as Teachers' rigorous endorsement process demonstrates an affiliate's accountability and credibility to the community, its funders, elected officials, and the partner organizations with which they work.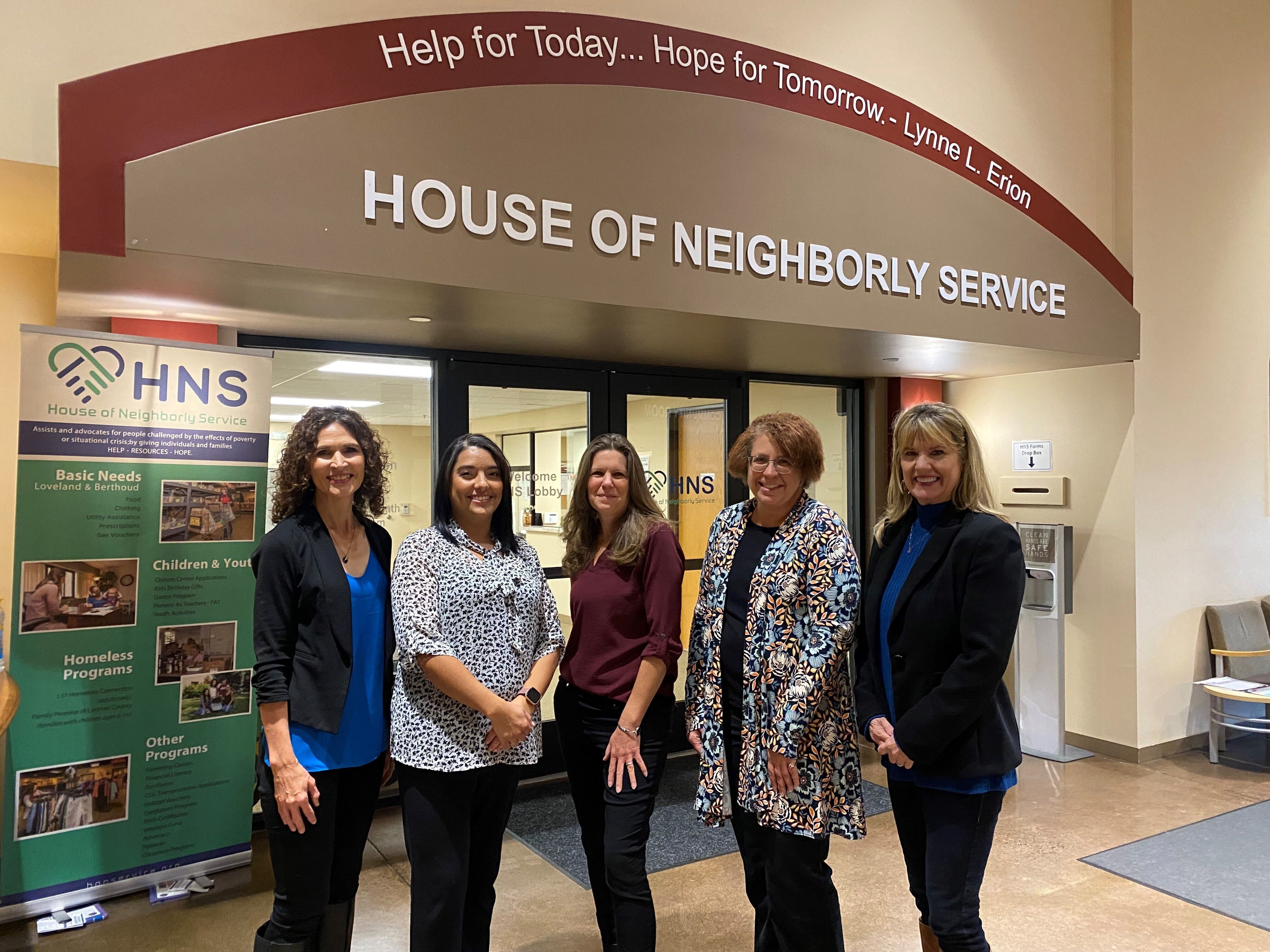 ---
SCHEELS Pledges $260,000 to the Berthoud Life Center Capital Campaign
House of Neighborly Service is excited to announce that SCHEELS, a longtime supporter of our organization, has generously donated $260,000 to our Berthoud Life Center Capital Campaign. SCHEELS joins other local donors in propelling the dream of a Life Center (owned and operated by House of Neighborly Service) forward in our Berthoud community. It means so much to have a strong partnership with the local Johnstown store and a corporation that cares deeply about giving back to their community. In exchange for their donation, HNS will proudly display the SCHEELS name in the Berthoud Life Center large Meeting Room where community collaboration can take place.

"It is such an honor to partner with a corporation like SCHEELS who has shown their commitment to making our shared community a better place. Their donation to our Berthoud Life Center will allow us to create something together that will leave a legacy in this thriving community, and support our efforts to bring additional services and resources while opening a space for the entire community to share life together. We are grateful and excited to have them join us on this journey." Cherri Houle, Executive Director, House of Neighborly Service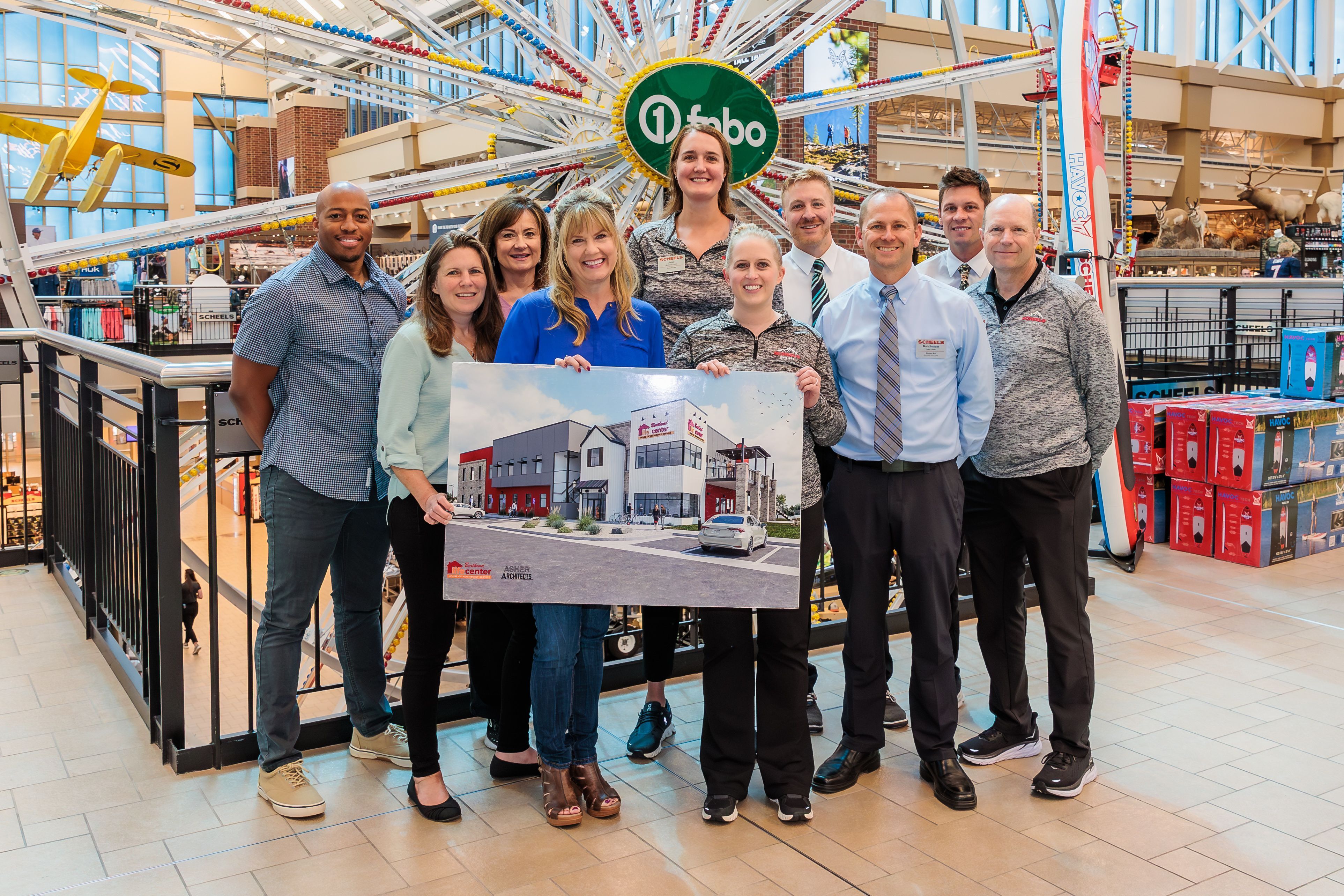 ABOUT THE BERTHOUD LIFE CENTER CAPITAL CAMPAIGN
The planned Berthoud Life Center will allow House of Neighborly Service to expand existing services in Berthoud while also providing community space for residents and businesses, and offering affordable rental space for up to 10 partnering non-profits to serve the needs of the community. The vision is a place where people can come together no matter where they are in their life's journey. Whether receiving help to change the circumstances in their life, volunteering valuable time and resources to support others, or utilizing community spaces for business or personal events, to learn new things or celebrate life together – this will truly be a place built by the community and for the community.

The Berthoud Life Center will be constructed on land that was purchased by private funders in a central part of town. A capital campaign is currently underway to raise the remaining funds to support this project with a vision of serving our community's needs for generations to come.
"We are so grateful for this partnership with SCHEELS and their generous donation toward our Berthoud Life Center! As a Berthoud resident, I am passionate about this project and am excited about what the Life Center will provide for our community. This donation from SCHEELS is a great example of how our small community is coming together to make a difference and we are so excited to have them on this journey with us." Jinger Tomassi, Assistant Director – Berthoud, House of Neighborly Service

ABOUT JOHNSTOWN SCHEELS
"SCHEELS cares about our local communities and we make it our mission to be an active member through donations, outreach and volunteerism. SCHEELS has a goal of helping to build strong communities in each of our markets and encourages our associates to find something they are passionate about and take the steps to make a lasting impact in their community. Each year, our employees facilitate amazing opportunities for our company to get involved with local organizations, whether that be through volunteering or monetary donations. We are excited to support The Berthoud Life Center, the 5th large-scale community project in Northern Colorado that we have supported through opportunities brought forth by our associates. We are grateful for the chance to support this project and look forward to seeing this dream become reality!" - Janae Burich, SCHEELS Marketing Leader

To learn more about House of Neighborly Service's plans to build the Berthoud Life Center, and how you can be involved, please contact Jinger Tomassi at 970-532-0161 or visit the website: lifecenternoco.org